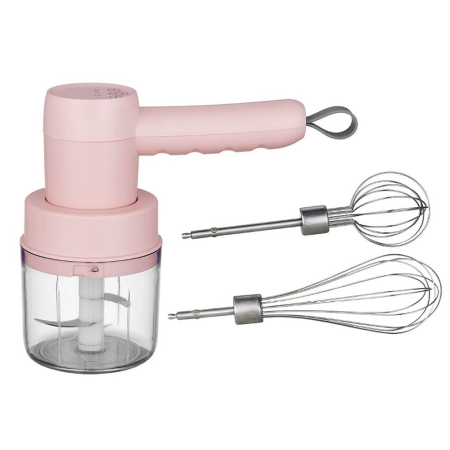 3-In-1 Wireless Portable Electric Mixer and Chopper
কল করতে ক্লিক করুন
01611006666
কল করতে ক্লিক করুন
01611006666
| | |
| --- | --- |
| ঢাকায় ডেলিভারি খরচ | ৳ 70.00 |
| ঢাকার বাইরের কুরিয়ার খরচ | ৳ 130.00 |
বিঃদ্রঃ- ছবি এবং বর্ণনার সাথে পণ্যের মিল থাকা সত্যেও আপনি পণ্য গ্রহন করতে না চাইলে কুরিয়ার চার্জ ১৩০ টাকা কুরিয়ার অফিসে প্রদান করে পণ্য আমাদের ঠিকানায় রিটার্ন করবেন। আমরা প্রয়োজনীয় ব্যবস্থা নিব।
Product name: electric mixer
Rated power: 20W
Rated voltage: 3.7V
Gear position: 5 gears
Function: beat eggs, beaten butter, stir meat, etc.
Colour:blue
Material:PP+stainless steel
Size:9x6x16cm

Package Contents:
1 x Host
2 x Stirring head
1 x Small mixing container
1 x USB cable
1 x Chinese and English manual

Only the above package content, other products are not included.
Note:different displays may cause the color of the item in the picture a little different from the real thing. The measurement allowed error is +/- 1-3cm.
আপনি ঢাকা মেট্রোপলিটন সিটির ভীতরে হলেঃ-
ক্যাশ অন ডেলিভারি/ হোম ডেলিভারি।
ডেলিভারি চা্জ ৭০ টাকা।
পণ্যের টাকা ডেলিভারি ম্যানের কাছে প্রদান করবেন।
অর্ডার কনফার্ম করার ৪৮ ঘণ্টার ভিতর ডেলিভারি পাবেন।
আপনি ঢাকা সিটির বাহীরে হলেঃ-
কন্ডিশন বুকিং অন কুরিয়ার সার্ভিস এ নিতে হবে।
কুরিয়ার সার্ভিস চার্জ ১৩০ টাকা বিকাশ/ নাগাদ/ রকেট এ অগ্রিম প্রদান করতে হবে।
কুরিয়ার চার্জ ১৩০ টাকা আপ্রদান করার ৪৮ ঘন্টা পর কুরিয়ার হতে পণ্য গ্রহন করতে হবে এবং পণ্যের টাকা কুরিয়ার অফিসে প্রদান করতে হবে।
বিঃদ্রঃ- ছবি এবং বর্ণনার সাথে পণ্যের মিল থাকা সত্যেও আপনি পণ্য গ্রহন করতে না চাইলে কুরিয়ার চার্জ ১৩০ টাকা কুরিয়ার অফিসে প্রদান করে পণ্য আমাদের ঠিকানায় রিটার্ন করবেন। আমরা প্রয়োজনীয় ব্যবস্থা নিব।
Related Products