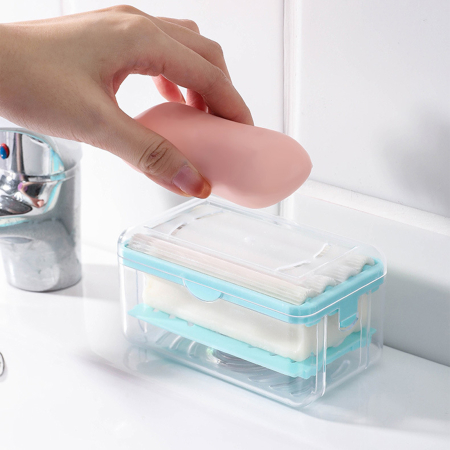 Soap Box Hands Free Foaming Soap Dish Multifunctional Soap Dish Hands Free Foaming Draining Household Storage Box Cleaning Tool
কল করতে ক্লিক করুন
01324737750
কল করতে ক্লিক করুন
01324737750
| | |
| --- | --- |
| ঢাকায় ডেলিভারি খরচ | ৳ 70.00 |
| ঢাকার বাইরের কুরিয়ার খরচ | ৳ 130.00 |
বিঃদ্রঃ- ছবি এবং বর্ণনার সাথে পণ্যের মিল থাকা সত্যেও আপনি পণ্য গ্রহন করতে না চাইলে কুরিয়ার চার্জ ১৩০ টাকা কুরিয়ার অফিসে প্রদান করে পণ্য আমাদের ঠিকানায় রিটার্ন করবেন। আমরা প্রয়োজনীয় ব্যবস্থা নিব।
Description:
1.Made of plastic material, sturdy and durable.
2.Multifunctional soap dish that can be washed and stored.
3.Easy to use, the rollers rub against each other to generate foam, which is convenient for brushing.
4.Built-in spring that keeps rising as the soap decreases with use, no waste.
5.The bottom is drained and ventilated to keep dry, and the cover is hollowed out to store soap.
Specification:
Material: Plastic
Color: White,Blue
Size Chart:
12.2x7.2x6.7cm/4.80x2.83x2.64inch
Package Includes:
1x Soap Box